The Rapture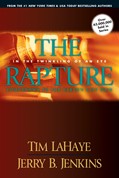 Read 1st Chapter Excerpt
Buy Now
Softcover

eBooks


List Price: $14.99
Binding: Softcover
Page Count: 382
Trim Size: 5.5 x 8.25
ISBN: 978-1-4143-0581-3
CPC Sub Category:
Release Date: February 2007
In this the final prequel to the blockbuster series, the story features the Rapture three-quarters of the way through the book and then follows characters such as Irene and Raymie (and others) up to heaven, where they are able to see events in the Tribulation from heaven's perspective. The story alternates between events on earth immediately after the Rapture (covering lots of things the authors wished they could have covered in the original volumes) and characters in heaven and how they view the chaotic events on earth.
Back Cover Copy
Time seems to slow as the clock ticks down. . . .
Pan-Con Airlines captain Rayford Steele prepares for a flight to London with beautiful flight attendant Hattie Durham. Because of his wife's newfound faith, Rayford looks forward to time—and the possibilities—with Hattie.
Journalist Cameron "Buck" Williams is in Israel when the Russians attack and experiences for himself the miraculous deliverance of the Holy Land. Buck cannot deny Chicago bureau chief Lucinda Washington's insistence that the event was prophesied in Scripture, though he dares not consider the personal ramifications.
Meanwhile, Nicolae Carpathia eliminates any obstacles in his path to power. As the newly appointed president of Romania, Nicolae is invited to speak before the U.N.
Without warning, millions disappear and are welcomed into the unspeakable presence of God.
On earth some realize what has happened . . . what they've lost . . . what they've missed.
And the darkest days lie ahead for those left behind.