Apocalypse Dawn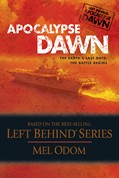 Read 1st Chapter Excerpt
Buy Now
Softcover

eBooks


List Price: $14.99
Binding: Softcover
Page Count: 448
Trim Size: 5 1/2 x 8 1/4
ISBN: 978-0-8423-8418-6
CPC Sub Category:
Release Date: August 2003
From the decks of U.S. Navy carriers patrolling the Mediterranean to Fort Benning, Georgia, and the dusty sands of the Turkish-Syrian border, this new suspense thriller runs side by side with the phenomenal series that has sold more than 50 million copies.

New characters and situations are added to those from the already explosive Left Behind series to raise the tension to a fever pitch. With technical accuracy from the same people who create best-selling military thrillers, this new series will satisfy the fans of the original Left Behind series who are looking for more.
Back Cover Copy
In a single cataclysmic moment, First Sergeant Samuel Adams "Goose" Gander finds himself center stage in the opening act of the Apocalypse. Goose and the men of the 75th Army Rangers fight to survive a massive attack on the Turkish-Syrian border. Battling his own failing faith, Goose prays for the lives of his men and the innocents who are caught in the rain of bullets and missiles.
Back home, Goose's wife, Megan, fears for her husband and rebellious teenage son while she struggles to save another family. But her life is upended by an incredible, confusing, remarkable occurrence. She's not alone.