Shadowed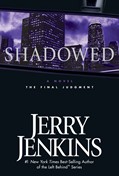 Read 1st Chapter Excerpt
Buy Now
Softcover

eBooks


List Price: $24.99
Binding: Hardcover
Page Count: 320
Trim Size: 6 x 9
ISBN: 978-0-8423-8414-8
CPC Sub Category:
Release Date: September 2005
After God intervenes with a miracle of global proportions, the tide is turned on international atheism and the National Peace Organization (NPO). The underground church has grown to the extent that Christians are becoming the majority. Agent Paul Stepola and his wife Jae are exposed and forced to become international fugitives. The NPO will stop at nothing to capture Paul and eliminate the underground church—until God intervenes and the final judgment is at hand.
Front Flap Copy
In the wake of a curse of global proportions, National Peace Organization operative Paul Stepola has been exposed as a double agent—serving the Zealot Underground of people of faith in an atheistic world while sworn to persecute them. Now he and his family are on the run, targets of the very agency he has served for so many years.
Follow him and his wife, Jae, and young children, Brie and Connor, as they try to elude capture and sentencing for treason.
In this rapid-fire conclusion to the best-selling Soon series, the law banning the practice of religion around the globe is on the brink of collapse. The tide is turning . . . but personal, family hostilities threaten to end in disaster before the world comes to its senses.