The Road to War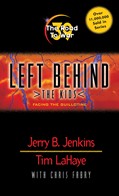 Read 1st Chapter Excerpt
Buy Now
Mass Paper


List Price: $5.99
Binding: Mass Paper
Page Count: 208
Trim Size: 4 3/16 x 6 7/8
ISBN: 978-0-8423-8349-3
CPC Sub Category:
Release Date: October 2004
With over 11 million copies sold in the series, Left Behind: The Kids follows a group of teens who were "left behind" when other friends and family members were taken to heaven by God in the Rapture. All they have left is their friendship and their growing faith in Jesus Christ. For them, the last several years have been tough, but they are about to receive the greatest reward. With background plots from Left Behind #11: Armageddon and Left Behind #12: Glorious Appearing, readers won't want to miss the spectacular conclusion to this series.
Back Cover Copy
A startling discovery sends the Young Trib Force scurrying for safety. Will Lionel and the others in Petra be able to help their friends escape a Global Community ambush?
In Wisconsin, a Young Trib Force member realizes the danger and tries to warn his friends. Will he escape capture?
Join the Young Trib Force as they watch the advance of the Antichrist's army and find themselves in some of the most dangerous locations in the world.