Earthquake!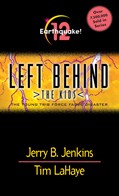 Read 1st Chapter Excerpt
Buy Now
Mass Paper


List Price: $5.99
Binding: Mass Paper
Page Count: 144
Trim Size: 4.188 x 6.875
ISBN: 978-0-8423-4332-9
CPC Sub Category:
Release Date: November 2000
The continuing adventures of the four teenagers caught in a world in chaos. After being left behind at the Rapture, they struggle to grow in their newfound faith, live boldly for Christ, and battle for their lives.