Busted!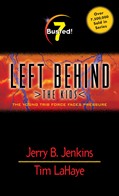 Read 1st Chapter Excerpt
Buy Now
Mass Paper


List Price: $5.99
Binding: Mass Paper
Page Count: 175
Trim Size: 4.188 x 6.875
ISBN: 978-0-8423-4327-5
CPC Sub Category:
Release Date: March 2000
These latest volumes of the hot-selling Left Behind juvenile series continue the story of four kids left behind after the Rapture. With themes and events that parallel the adult series, these books carry Left Behind's important message to the younger generation.

In #7 Busted, Vicki is sent to a juvenile detention center after school authorities charge her with distributing The Underground newspaper. The rest of the young Tribulation Force try to keep in touch with Vicki. Will she be able to hold up under the pressure?